Filtration
How safe is your drinking water. We sell, install and service a range of water purifiers and water treatment systems to our rural and town customers.
Water Filtration Sales
We have a range of water treatment systems to meet your needs. These include under bench, bench top, filter cartridges, filter housings and UV packages which are ideal for tank supplied water.
Brands
We sell Microlene, Steriflo and Filterpure and Sterilight systems. We also service other brands of filtration equipment
Design and selection
One of the most critical elements of any water filtration system, is that the equipment is correctly specified for the application. We will visit on site to discuss the application and selection of filtration equipment to ensure the most efficient result is achieved.
Installation
All product supplied can be installed using proven methods of installation by our experienced service technicians.
Filtration is the means of removing contaminants from water. These contaminants can be dust, rust, sediment, algae and chemicals. Water is swiftly cleaned of these once passed through a correctly selected cartridge.
Most rural properties rely on the capture of rainwater stored in storage tanks for their water supply. Rain water is relatively pure, however it can be contaminated by dust, pollen, leaves and even bird and animal droppings as it passes down your roof into your water storage tanks. The extent to what treatment is required depends on each individual case.
Ultra Violet (UV)
This usually consists of a three stage filtration and ultraviolet disinfectant system. The first stage is a 20 micron filter that removes solids down to 20 micron. The second stage has a 1 micron filter that removes small solids, cysts, like giardia and cripto before passing through a third stage. This is a UV unit with a ultraviolet light in it which sterilises viruses and bacteria.
Filter cartridge and Housing
This can be as simple as 1 x filter housing and cartridge to remove dirt particles through to multiple housings for the removal of chemicals, pesticides, chlorine, tastes and odours.
Under Bench or Above Bench purifiers. (Point of use)
These are usually located in the kitchen and have a chrome spout through which the purified water is delivered. The above bench unit can easily be connected to the kitchen tap or the under bench unit is easily plumbed into the cold water supply.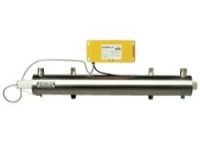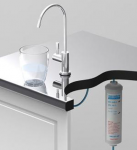 Our commitment to you

♦

Locally owned and operated

♦

Qualified service technicians

♦

Knowledgeable and trustworthy

♦

Professional, prompt service

♦

After hours service
Maintenance
Our fully approved UV filtration and water purification systems can be fully serviced and maintained by our experienced technicians.
If you have any queries or would like to arrange an on site inspection and quotation please contact us on 0800 786 344 or via the online enquiry form.